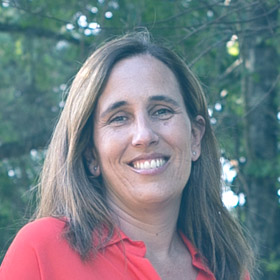 Constanza Connolly
Constanza Connolly is an attorney specialized in corporate law, corporate governance, mergers and acquisitions. She has vast experience in start-up design and entrepreneurship, as well as in business seeking social and environmental positive impact.

She advises on the design and development of impact funds aimed at boosting sustainable finance and focusing on ESG (environmental social governance). She specialized in sustainable value chains and complex structures for the creation of solutions for non-traditional figures, including organizations with non-profit and for-profit "hybrid-structures". She led the first social impact bond launched in Buenos Aires, Argentina.
She co-founded the "Latin American Impact Lawyers Network" to boost impact businesses in the region and she is a member of its Board. She has been appointed board member of ESELA (The Legal Network for Social Impact), an international network which promotes impact business. She is also a member of the GSG Impact Investment Task Force created between Argentina and Uruguay in order to promote impact investment in Argentina. She actively participates in the "Latin America Payment by Result Network" (Red Latinoamericana de Pago por Resultado). She co-founded "Legal Group B" (Grupo Jurídico B) in Argentina, which drafted the bill being presented to the National Argentine Congress for providing legal protection and boosting development of "Benefits Corporations" (Collective Interest and Benefit Companies).

She was Counsel at Beccar Varela law firm and there she led the impact area at Beccar Varela and provided strategic legal services for the growing impact economy.

She is married and has three sons.

Soledad Noel
Soledad is a lawyer with extensive experience in the creation and implementation of projects and initiatives to promote the development of triple bottom line business. She studied at Pontificia Universidad Católica and has a specialization in Corporate Legal Counseling, at the Universidad of Buenos Aires, and a Pre Master in Business Law, at the Austral University.

She co-founded the "Latin American Impact Lawyers Network" to boost impact businesses in the region and she is a member of its Board. She co-founded the Argentine "B Legal Group" (Grupo Jurídico B), which drafted the bill being presented to the National Argentine Congress for providing legal protection and boosting development of "Benefits Corporations" (Collective Interest and Benefit Companies).
From 2016 to 2019 she worked at Sistema B Argentina articulating with the public sector, academia and the third sector. In this task she worked with organizations such as UNDP, IDRC, Inter-American Network of Public Procurement, Local Innovation Network, San Juan Investment Development Agency, General Directorate of Entrepreneurship of the City of Buenos Aires, and local governments. She coordinated the B Lawyers Group of Argentina. Since joining the B movement, she has had an active role in the building process of the Global Community of B Lawyers (today the Latin American Impact Lawyers Network). Since 2019 she has been working together with the Inter-American Network of Public Procurement and IDRC to advance a sustainable public procurement (SPP) agenda as a tool for the development of the impact market.

Previously, she was a senior lawyer at Beccar Varela Law Firm, in the Corporate Department, providing general corporate advice to local and foreign companies, associations, foundations, and hybrid structures organisations. From 2006 to 2007 she coordinante the Pro Bono and Public Interest Work Commission of Buenos Aires City Bar Association, where she worked on issues such as microfinance, advice to NGOs, Political Transparency and Disability. 

A year ago Soledad moved from Buenos Aires to Villa La Angostura -a small town surrounded by native forest located east of the Andes Mountains- to live in a simpler way and in contact with nature.

Agostina Coniglio
Agostina obtained her Law degree from Catholic University of Argentina (2017) and her Graduate Degree in Sustainable Development Management from Universidad Argentina de la Empresa (2018).

Former Beccar Varela associate, where she advised associations, foundations, and hybrid structures organisations as well as traditional companies. Agostina has also helped develop and implemented new impact business models, incorporating environmental, social and governance (ESG) factors to decision making and management and in designing legal mechanisms to block and secure their missions and impacts. Her practice areas also included Pro-Bono work.
Agostina has participated in conferences and congresses and written articles as well as different publications.

Agostina enjoys travelling as much as sharing the little things as she considers them enriching experiences. 
Beatriz Pellizzari
Beatriz trained as a Social Psychologist, she specialized in planning and management of social organizations. She is a former Fellow of Fundacion MAPFRE Medicina/Spain in "Professional Re-qualification and Re-training of workers with disabilities".

Between 1993 and 2000 she directed the PAR Foundation and worked in the National State as an Advisor at CONADIS. In 2002 she founded La Usina, in 2008 she created the social enterprise redACTIVOS, and in 2015 she founded Libertate Social Enterprise from where she left in June 2018.
Her collaborations include companies such as Genneia, Banco Santander, Austin Powder, Natura Cosméticos, Vista Oil&Gas, Arcor and DOW, and the social organisations Cooperativa La Huella, Inmigrantes Digitales empresa social and Yo También.

Beatriz has served as external advisor for Fundación Telefónica, Fundación YPF and Petrobras. She is also a volunteer on the advisory board of INICIA and a member of the community of Fundación Vocación Humana and has been a jury member in several Project competitions for public and private organizations.

She is a guest lecturer at several universities, including UBA-Facultad de Ciencias Económicas, Universidad Siglo21, UTN and Universidad de Belgrano, among others. She participated in the research – led by the Demeter Foundation together with the Paris School of Political Science – on "The economic inclusion of people with disabilities" at a global level.

Beatriz is an Ashoka Social Entrepreneur since 2000, Globalizer fellow in 2014 and fellow of the Professional Program on International Leadership, Employment, and Disability (Mobility International USA). She was a TEDx speaker in Buenos Aires. She has received the "Human Rights Award" granted by B`Nai B`rith and was distinguished as "Ambassador of Peace" by the Thousand Millennia of Peace Foundation and the PEA Foundation, among other distinctions. 

Passionate about sectors articulation, she currently works in accompanying strategic processes and inclusive value chains for companies, governments, and civil society organizations.

Bea is married and is mother of a daughter.
María Laura Tinelli
María Laura is the Director of Acrux Partners, a firm specialized in impact investment based in Argentina and the UK. She has vast experience in advocacy and awareness raising of investors in the field of Responsible and Impact Investment. Highlights include the development with IDB MIF of the guidelines for the first impact investment fund for the Southern Cone, the structuring and launch of the first Social Impact Bond in Argentina, and advice for the first Sustainable Bond aligned to ICMA Standards and SDGs of the Productive Development Bank of Bolivia (Banco de Desarrollo Productivo de Bolivia).
She is Board Member of the Global Steering Group on Impact Investment, Member of the Advisory Committee of the Latin American Venture Philanthropy Network and a representative of SDG Impact Standards for the United Nations Development Programme for Latin America. She leads the Impact Investment National Advisory Board for Argentina, Uruguay and Paraguay and has co-created the Latin American Outcome Payments Network and LatinSIF.
Matías Galindez
Matías is Partner and Director of FIXIT, a social innovation agency certified as B Corp. At Fixit he provides organizational consulting services, strategic design of high-impact businesses and accompanies senior management in the process of integrating sustainability into the culture and heart of the business.

He is also a founding partner of GEA Rosario, an Argentine B Corp that promotes the circular economy through integrated waste management services.
He is a member of the Board of Directors of Sistema B Argentina and of the Advisory Board of the B Local Community in Rosario, from where he promotes the impact movement and the development of companies with competitive business models for a new economy. 

He worked in the public sector, where he led transformational processes in public companies and decentralized state entities that provide services with high social, environmental and economic impact such as: urban mobility and commercial aviation activity. From 2007 to 2017 he chaired Empresa Mixta de Transporte Rosario S.A, and from 2017 to 2019 he was the president of Rosario International Airport, owned by the Province of Santa Fe. 

Matias fulfills a social role as a founding member and former president of Banco de Alimentos Rosario. He was also president of the Argentine Network of Food Banks and director of JCI- Junior Chamber International in Rosario and Argentina. 

Matias is a Certified Public Accountant graduated from the National University of Rosario., He has a Postgraduate degree in Agribusiness and a Master's degree in Economics and Administration from ESEADE. He lives in the city of Rosario, Province of Santa Fe and is the father of Lucía, Francisco and Benicio.